Digital Marketing
Digital Marketing is a marketing techniques in which we use digital equipment such as Computer, Laptop, iPad, Smartphones to increase awareness of our product and services because of increased reach of internet on average a person spend 2 to 3 hour of their daily time on surfing throughout the internet and social media so digital equipment are the best place to increase awareness about your product and services.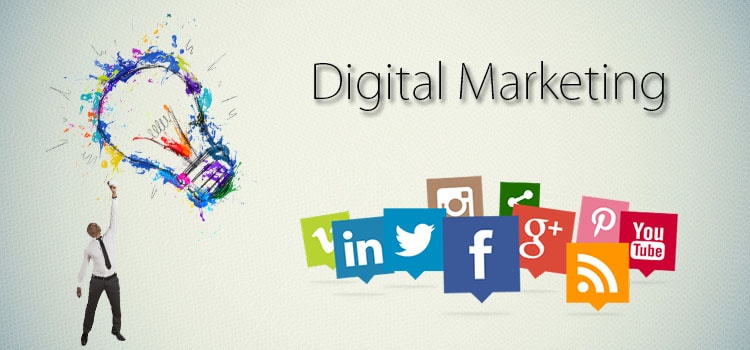 The reason behind choosing Digital Marketing as a career
Digital Marketing is the one of the growing career opportunity nowadays because of digitalization required of digital marketing skilled professional as well as fresher has increased tremendously which lead to increased job vacancies in the corporate sector for digital marketers.
Future of Digital Marketing
Future demand of digital marketing is huge because of increased demand of internet and digital equipment by users small company owners shifting their businesses from traditional marketing techniques to digital marketing techniques to attract the bigger audiences base and for increasing ROI.
There are many reasons to do Digital Marketing
Helps in measuring and tracking of users
Attract, nurture, and convert users
Cost-effective
To calculate and track ROI
To connect with wider audiences
To do A/B testing, for achieving real-time results
Build relationships with customers
Reach people at the right time with the right message on the right device every time
Fields of Digital Marketing
Inbound Digital Marketing: Promotion of businesses by the use of the internet from both organic and paid campaigns.
Search Engine Optimization (SEO)
Search Engine Marketing (SEM)
Social Media Marketing (SMM)
Social Media Optimization (SMO)
Online Reputation Management (ORM)
Content marketing
Email marketing
Affiliate marketing
Online advertising
Mobile marketing
Outbound marketing: Promotion of businesses without using the internet.
Billboards (OOH)
TV
Newspaper
Direct mail
Magazines
Radio
The career path of digital marketing
With the Experience of 0-1 years: Digital Marketing Analyst.
With the Experience of 1-3 years: Digital Marketing Expert or Specialist.
With the Experience of 3-5 years: Assistant Marketing Manager or Digital Marketing Team Lead.
With the Experience of 5 years: Digital Marketing Manager.
With the Experience of 8 years: Digital Marketing Strategist.
With the Experience of 10+ years: Chief Marketing Office.
Scope in Digital Marketing: Digital Marketing comes with a number of domains such as
Digital Marketing Manager (3-4 LPA)
Digital marketing strategist (4-5 LPA)
Digital marketing executive (3.5-4.5 LPA)
Search Engine Optimizer (2-3 LPA)
SEO analyst (1.5-2.5 LPA)
Social Media Marketing Expert (5-6 LPA)
Social Media Specialist (3-4 LPA)
Search Engine Marketer (4-5 LPA)
PPC Search Manager (8-9 LPA)
Email marketing specialist (2-3 LPA)
Inbound Marketing Manager (4-5 LPA)
Google AdWords specialist (5-6 LPA)
Content Marketing Manager (6-7 LPA)
Conversion Rate Optimizer (5-6 LPA)
Online reputation manager (3-4 LPA)
Web Analyst (2.5-3.5 LPA)
Copywriter (2-3 LPA)
Mobile Marketing Manager (4-5 LPA)
Head of Marketing (8-9 LPA)
Affiliate Marketer (5-6 LPA)
Learn Digital Marketing from IIADM which is India's first and only digital marketing training institute who provide paid internship to their students just after the completion of their training program.
IIADM provides training on the live project by industry recognized and googles certified trainers.
Visit the website for more details: IIADM